August 11, 2022


August 11, 2022
Source
Dezeen has announced the sustainability longlist for Dezeen Awards 2022, which features over 80 of the world's best recently completed sustainable buildings, interiors and designs. From over 5,400 entries from 90 countries to Dezeen Awards this year, the Bamboo Treehouse Village project is one of the 25 projects that are in the running to win an award  in the Sustainable Building category.
The longlisted sustainability projects in this year's three categories feature designs from studios in 29 different countries including Uganda, Mexico, Vietnam, Finland, and Australia.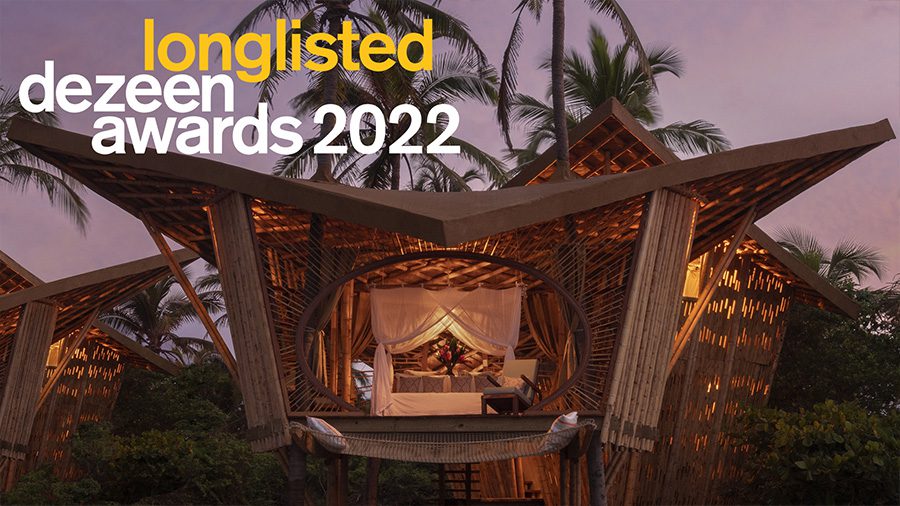 Bamboo Treehouse Village at Playa Viva by Atelier Nomadic is longlisted in the sustainable building category.
Atelier Nomadic has designed the Bamboo Treehouse Village at Playa Viva in Mexico.
This project is scattered along the Mexican coastline overlooking the South Pacific, where six bamboo treehouses are perched on coconut palms overlooking the surf.
The treehouses are the latest extension of Playa Viva; an environmentally-conscious resort dedicated to sustainability and regenerative practices which runs entirely off-grid and generates 100% of its energy from solar power. The holistic design was intended to align with the expected post-COVID travellers' desire to stay in exciting, healthy accommodation, immersed in the natural environment.
"After months of isolation and lockdowns, here, guests can be submerged and reconnect with the natural environment," added architects Atelier Nomadic. "Listen to the sound of the waves, bath in the warm sunset tones, feel the breeze sway through the palm leaves and taste the salt air, unmasked, as they lounge on the hammock suspended over the beach, staring at the stars."